Location
Welcome to Taos Horse Getaways....Endless Wilderness Trails!
Carson National Forest Hunting Cabin Information
160 acre Ranch with Rustic Log Cabin and 3 living quarter trailer/RV sites!
PO Box 226 Tres Piedras, NM 87577 ~ 575-758-3628 ~
Email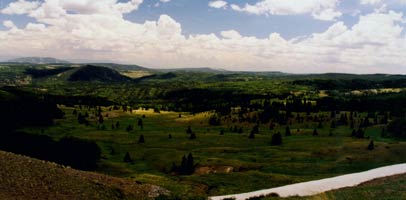 Cruces Basin Wilderness Area
After doing some traveling with our horses, we discovered the need for horse and dog friendly accommodations. We found the perfect spot to construct our vision, land adjacent to the Carson National Forest. We constructed two houses with corrals and sheds that are Horse and Dog friendly(though everyone is Welcome even if you don't have a pet!). Ride out the corrals right into the forest...no trailering needed unless you want to venture into a different area. You can ride or hike for miles and miles enjoying the spectacular beauty of Northern New Mexico.
We hope you enjoy our site and look forward to seeing you out on the trails!
Holly Burgess-Wolosin & Ken Wolosin(on premise owners and builders)
Our Horse friendly/Dog friendly houses are located in the small Northern New Mexico town of Tres Piedras, which is 30 minutes south of the Colorado/New Mexico border. This is one of the last undeveloped areas of the "Wild West". You'll be riding in the same areas that the last Prehistoric Native Americans hunted and gathered. Ancient relics from prior civilizations are still being found(arrowheads, pottery shards, tools, etc..), who knows maybe you'll stumble upon some yourself!
Directly behind the houses is the Carson National Forest and the south section of the Tusas ridge area, which goes up to over 9,000 feet and has timber, stock ponds, and many old logging roads. There's good easy Backcountry horseback riding with plenty of places to explore. Riding further into the Forest you'll see some of the most beautiful unspoiled areas of The Carson. The mountains there are over 10,000 feet but not too steep so the riding is not just up and down trails to ridges. There are open meadows, trees, small streams with trout, and a lot of game, mostly elk. This area is prime country for hiking, biking, snowmobiling, cross country skiing, rock climbing, mountain biking, fishing and hunting(and just loafing around!).
The Cruces Basin Wilderness Area is to the northwest via a long gravel road. There is quicker access to good riding via the paved road #64 west to the Jawbone Mountain area. To the south and west are the very remote Vallecitos and Canjilon areas.
We've been exploring all these places for 25 years and have yet to tire of them. They are spectacular! We can show you some great loops. We'll provide maps and our help to find them.