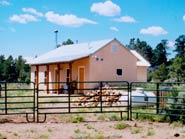 Our 2 small cabins are located in Unit 51 of the Carson National Forest on the edge of Unit 52 & Unit 50. Hunt antelope, mule deer, and elk, by bow, muzzleloader, or rifle during the months of September, October, November, and December.

If you hunt with horses and pack animals bring them along. Each cabin has a paddock and shelter for your animals.

Maximum occupancy per house is 3 hunters/persons.
( 2 adults is ideal for comfort)

HUNTING RATE: $150.00 per night --- 5 night minimum.

For more information on the cabins email or call us at 575-758-3628.

Return to Home
160 acre Ranch with Rustic Log Cabin and 3 living quarter trailer/RV sites!